Tobago Island Sightseeing and Plantation Tour
Caribbean » Trinidad and Tobago » Tobago » Scarborough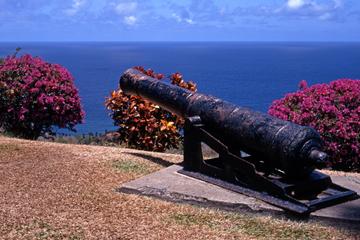 (4.5)
Duration: 7 hours
Departs: Scarborough, Trinidad and Tobago
Price from USD 94.99
Book Now
Drive through Tobago's capital, Scarborough and visit Fort King George before embarking on the unique Windward Road to enjoy spectacular mountain scenery, sprawling beaches and small coastal villages. Then, visit to a 10th century sugar plantation house and the fishing village of Charlottesville, with Pigeon Peak, Tobago's highest mountain, rising just behind it.
Your tour begins with a drive through the island capital Scarborough. You will enjoy a beautiful panoramic view from Fort King George and visit the museum. Driving along the winding coastal road, you'll pass several villages, rivers and an abundance of tropical vegetation.
On your way, yo'll visit the famous "Richmond Great House", a restored 10th century sugar plantation house. Passing through Roxborough and Speyside, you finally reach Charlotteville at the northern most point of the island. This typical little fishing village at the base of Pigeon Peak will charm you. You can have lunch (not included) at Jemma's Tree House Restaurant in Speyside.

Concluding your tour, you will travel along the Atlantic coastline en route back to your hotel.
« All Activities